Consumers are ready to let their hair down, put on their lipsticks, and join the party. Retailers and brands have experienced a healthy resurgence in the lips category compared to last year, citing sales of +80% (CNN May 2021).
"Lips are going to be back in a big way. Bold colours, sparkly, metallic – anything that draws attention to what's been covered up for the past year!" Isamaya Ffrench – Make-up artist and creative Director at Dazed Beauty
We are on the cusp of a makeup renaissance. Pink is currently the colour of choice, while metallics continue to regain traction. Explore the latest in both categories with the Colors & Effects® portfolio.
Transformative metallics
Even before the COVID-19 pandemic started, metallic finishes were making a comeback. In beauty, the definition of metallic can be dynamic; from high shine to subtle shimmer, from bold colours to classic metal tones and from face to body applications. Metallic is versatile and transformative.
As COVID-19 restrictions begin to lift, beauty consumers are ready and eager to emerge from their lockdown cocoons like butterflies, making up for precious lost creative beauty-time. Wearing a bold lip colour or showcasing sun kissed skin, metallic products offer an array of opportunities to enhance a look and brighten spirits.
Gemtone® Radiant Nude from Colors & Effects® is a luminous effect pigment that provides radiance without the whiting out of the skin or creating an 'ashy' complexion. An ideal companion for creating a multi-cultural shade range. Also perfect for creating bronzing effects for the skin.
Cornelius has recently introduced a sunless tanning body cream featuring the Gemtone® Radiant Nude, creating a healthy radiant glow for all skin tones, instantly! For a sample and the formula, please contact our sales team.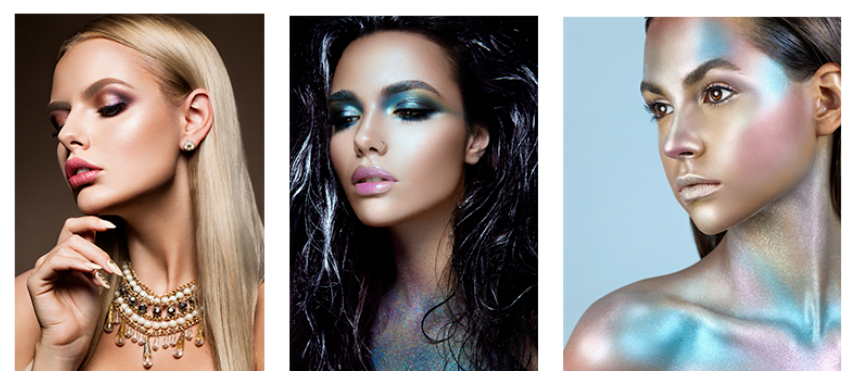 Selecting the right effect pigment for your metallic project
Metallic is synonymous with terms like chrome, glitter and sparkle which all may require different pigments, but the key to delivering the right kind of 'metallic' effect, as defined in a product brief, is to understand the role of particle size.
The table below showcases the relationship between coverage, particle size, and effect. The smallest particle size, <15 microns, has the best coverage, the bigger the particle size the less coverage. This is because, generally, the human eye can identify individual particles larger the 40 or 50 microns. If you can see the individual specs of sparkle, this categorizes a product as "shimmering or sparkling".
For example, for a high shine metallic, "liquid lame" effect, we would recommend the smallest particle, as that requires full coverage. Bismuth-based products, like Biju® UFC is a perfect candidate for this effect. Note the bismuth crystals must be dispersed prior to using in a formula, however it delivers an intense metallic effect.

Other categories of metallic using the Colors & Effects pigments includes:
The Newest Pink Metallic-like Effect Pigments
Over the last two years, Colors & Effects® has launched three new metallic-like effect pigments, complementing some of today's biggest beauty movements and consumer trends – vegan and clean.
Chione™ Electric Colours and the newest Cloisonné® Colour offers bold and vibrant pinks with a metallic-like effect. The colour intensity is created with patent-pending multi-layer technology, without the use of organic colorants like Carmine. In addition to being vegan and clean friendly, these products offer additional formulation benefits including no staining, no fading and no bleeding. These are globally approved for all cosmetic applications. Explore more about:
Synthetic Mica based products:
Natural Mica based products:
Although bold in colour, these products offer a range of colour creation, from light pink, if mixed with a Bi-Lite® 20, to a dark plum, when mixed with Black Iron Oxide. While Pink is making a bold comeback, especially in lip colour, these products can also be used in low loadings and added to skin care or personal care products. Versatile across the spectrum of beauty, check out these products for your next long-wear lip or morning serum project. To find out how Cornelius can help you to deliver transformational beauty routines using Colors & Effects pigments and pearls contact us on enquiries@cornelius.co.uk or read about our latest Sensorial texture kit containing products featuring: Chione™ Electric Fuchsia, Chione™ Electric Sunset, Gemtone® Radiant Nude and Gemtone® Garnet