Consumers are conscious, driven to cause-based products favouring social, economic, environmental, and ethical benefits.
The transparency of ingredients and corporate policies are of growing importance to the everyday consumer with claims such as natural, sustainable and vegan being a top selling point for not only niche brands, but also brands like L'Oréal and Unilever. Brands big and small are making a commitment to sustainability from packaging to formula changes. A popular transition is to Cruelty free formulas and even more recently, the conversion to vegan formulas. When it comes to colour in vegan products, this involves replacing a popular and common colourant, Carmine.
Carmine is commonly used in cosmetics and is derived from cochineal insects. It creates a rich crimson colour that is hard to replace with inorganic materials. However, cosmetic effect pigment supplier Colors & Effects, now part of Sun Chemical, offers a new selection of vibrant effect pigments in the red and pink colour space that are perfect for vegan cosmetics and offer a viable alternative to carmine.
Available on synthetic mica, INCI: Synthetic Fluorphlogopite, Titanium Dioxide, Iron Oxides, Silica; these 2 new products offer vibrant and high chroma colour created with patent pending multi-layer technology, and a metallic-like effect.
Chione™ Electric Fuchsia SF90D – blue-red colour space
Chione™ Electric Sunset SK90D – pushes into the blue-rouge color space with orange-red tones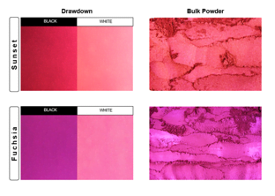 Available on natural mica, Cloisonné® Vibrant Raspberry offers the same richness and vibrancy, free from Carmine in the same colour space as the Chione™ Electric Fuchsia. INCI: Mica (and) Titanium Dioxide (CI 77891) ​(and) Iron Oxides (CI 77491) ​(and) Silica
This vibrant pink pigment is mined ethically and sustainably from the wholly owned natural mica mine in Hartwell, GA, USA, enabling full traceability from source. Natural, Vegan and COSMOS certified.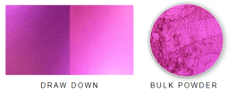 All three of these pigments do not contain carmine or organic colourants, thus providing additional formulation benefits including:
No fading, light stable
No staining
No bleeding
No application area restrictions
Versatile manipulation in formulations, combine with other Colors & Effects- part of Sun Chemical pigments or colourants to create a new palette of vegan friendly hues.
These pigments are great for a variety of applications and formulas, from bold colour cosmetics and nail enamels to subtle toned skin care applications.
Vegan Pinks in Inspirational Formulations:
We used a combination of the Chione™ Electric Sunset and Timica® Extra Bright in a Flushed Finish Fluffy Blush formulation; with its water free, long wear and vibrant vegan colour credentials, it ticks all the ethical beauty boxes.

Method
Heat Pecosil G to 70*C.
Stir in A2 materials and re-heat to 70*C, ensuring that it is constantly stirred to avoid burning.
Mix phase B materials and heat until molten.
Add the molten phase B to phase A, mix thoroughly then homogenise.
Our second formulation is a multi-tasking Fresh Glow Lip & Cheek Tint, featuring the Chione™ Electric Fuchsia pigment, for a fresh and brilliant bright shimmering pink pearl effect; with vegan colour, sustainable natural marine extracts and multi-tasking application, it's a formula that's reflective of the purposeful beauty times we're in.

Method
Disperse Algogel into water slowly using continuous stirring and heating to 70°C to form smooth gel.
Cool to room temperature and stir in further materials in order.
Pack into pots.
Empowered Colour Choices
Consumers want ethical beauty, but they also want to express certain freedoms through make-up, so it is important for brands to offer products in tune with this. Make-up is not only a source of self-expression, but also a source of enhanced confidence and empowerment to many.
The vegan pinks and reds from Colors & Effects – part of Sun Chemical,  are not just colours, but an awareness that bold colour and sparkle stand for both a confident make-up look and a conscious choice. To find out more about the expansive range of vegan friendly pinks and reds we have available, or to request samples of any of the products mentioned, please get in touch sales@cornelius.co.uk. 
---