Skin-minimalism For Fresh-faced Easy Convenience
The global beauty market has continued to boom during the pandemic, with skincare, in particular, growing as consumers prioritise beauty treatments as a method of self-care. With 55% of Female facial skincare users reducing how frequently they wear cosmetics (Mintel 2020).
Consumers have embraced their natural skin and want to look their best effortlessly and naturally, they are seeking out products that enhance natural skin with brightening, texture and colour perfecting claims, they want a streamlined and minimal routine, also known as 'skin-minimalism'. Products that are multifunctional, simple and easy to use.
The Rise Of Skincare-make-up Hybrid Products
Products that do more, so consumers can spend less are on the rise. A skincare product with all the active, long-term benefits of regular skincare and some of the instant effects of make-up that is quick and effortless to apply. This desire for a fresh-faced, less is more, healthy glow has led to people searching four times more this year than last year for 'How to get naturally glowing skin', and there has been a 180% year on year increase in searches for natural everyday make-up (Pinterest Business 2021).
Enhancing Skin Radiance In The Short & Long-term
This new considered and conscious consumption approach to beauty can be met through skincare loaded with skin-nourishing ingredients, potent long-term actives and instant effect pigments. Examples are Charlotte Tilbury Wonderglow Face Primer that can be used alone to give a gorgeous glowing finish with light diffusers, peptides and hyaluronic acid, amongst other ingredients to deliver instant and long term healthier-looking skin. Givenchy have launched a 'Skin-Caring Glow Foundation' that boasts of marrying make-up with skincare and boosted by a 'powerhouse of active ingredients for skin improvements day by day.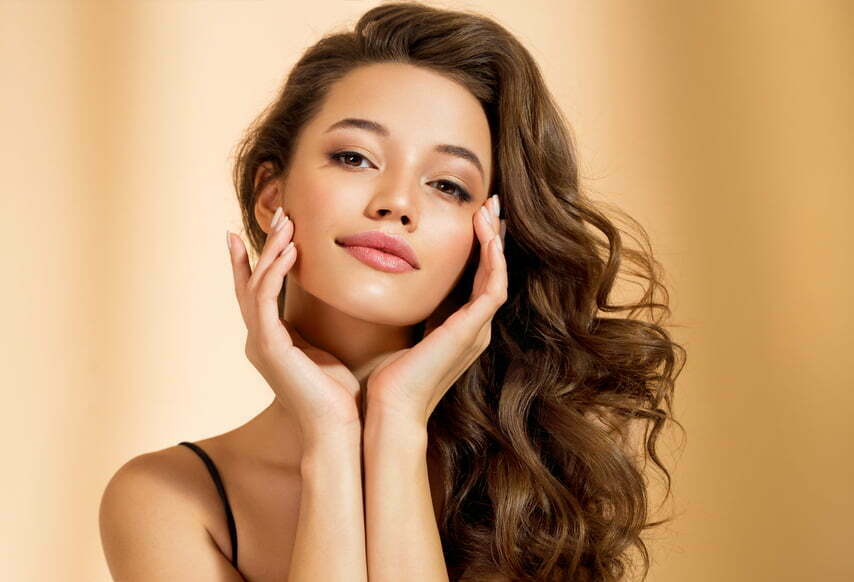 Light & Skin Interaction
Our age, ethnicity, environment and lifestyles can affect how our skin behaves and its outward appearance. Considering this, we created a range of universal radiance creams using Colors & Effects interference pearl pigments and formulated with complementary actives to bring fresh-faced and glowing skin to all possible skin tones:
Chione™ HD Metric Violet. The vibrant violet counteracts yellow tones, which accompany tired, or sallow skin. INCI: Titanium Dioxide, Synthetic Flurophlogopite, Tin Oxide
Chione™ HD Digital Pink. The punchy pink counteracts dullness, giving a fresh & healthy appearance. INCI: Titanium Dioxide, Synthetic Flurophlogopite, Tin Oxide
Flamenco® Silk Green. The calming green tone improves the appearance of broken veins or the redness caused by irritation or sunburn. INCI: Mica, Titanium Dioxide
Flamenco® Super Pearl. Brightens the appearance of all skin tones, scattering the skin with a delicate cool luminosity INCI: Mica, Titanium Dioxide
Flamenco® Super Gold. Adds a touch of brightness and warmth to all skin tones. INCI: Mica, Titanium Dioxide
Gemtone® Radiant Nude. For a hint of sunkissed glow, no matter the skin tone, a natural mica that is proven to enhance skin radiance. INCI: Bismuth Oxychloride; Mica, CI77491
Instant Experiences With Effects
For a sensorial experience with all-in-one benefits, the rose gold hydrator base created in house at Cornelius is a hydrating, light-textured serum that gives a subtle healthy radiance using Colors & Effects pigments. Pearl-Glo® UVR comprises pearlescent flakes of Bismuth Oxychloride and gives skin a light scattering soft glow finish, and Duochrome® Sparkle RY adds a double effect pink with a golden interference colour for a subtle healthy shimmer to the skin. To find out more about any of the pigments used in these products we created, contact us here.
Responsibly-Sourced Mica
All of the mica supplied by Colors & Effects is mined through wholly-owned mines in Hartwell, Georgia, USA. They are sustainably sourced with RSPO certification, so you can be sure they are safe and authentic.
Safe
Transparent
Sustainable
Certified
Responsibly Sourced.
To find out how Cornelius can help you to deliver purposeful beauty routines using Colors & Effects pigments and pearls, contact us at enquiries@cornelius.co.uk